Special project?

If your project requires you to think big, we can help. We have a wide-format printer that can output to a variety of substrates, including photo paper (both glossy and matte), canvas, and more.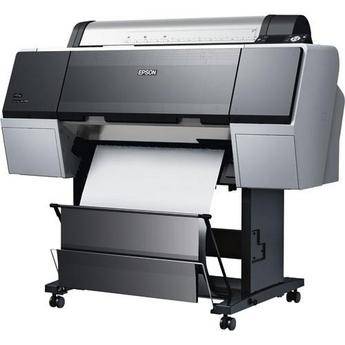 Our Epson Stylus Pro 7900 Printer represents the highest level of innovation and performance for fine art and commercial print applications. Designed for 24″ wide printing, the Pro 7900 incorporates a state-of-the-art MicroPiezo TFP print head with an ink droplet size of 3.5 picoliters. Leveraged with Epson's new AccuPhoto HDR screening technology, you can count on your most critical work to be rich, detailed, and accurate.
Epson's latest High Dynamic Range pigment inks offer exceptional quality for true archival printing. When used with Epson Professional Papers, color images are rated up to 200 years. Black & white printing lasts even longer! Eleven individual ink cartridges offer a super wide color gamut and eliminate waste.
In addition, The Epson Stylus Pro 7900 utilizes Optimal Black Ink Technology to automatically switch between Photo and Matte Black Inks. This delivers media-specific density for exceptional contrast, shadow detail, and line form. The black ink selected is easily confirmed on the front control panel. Capable of handling virtually any media type up to 24″ wide, the Epson Pro 7900 Printer is a wonderful choice for large format photographers and image professionals world-wide.
True Wide Format Printing

Capable of printing images up to 24 x 90.5″ the Epson Pro 7900 is perfect for making fine art gallery prints and banner productions. In living color or dramatic black & white, bring your widest vision to life!
Epson HDR Ink Technology

Epson's latest High Dynamic Range (HDR) pigment inks offer exceptional quality for both archival printing and short-run proofing applications. Color prints on Epson Professional Media are rated stable for up to 200 years (black & white prints last even longer). The short-term stability of the inks is equally impressive. From proof to print, these inks were developed to meet the demands of the professional image maker of today and tomorrow!
11 Individual Ink Cartridges

All 11 individual ink cartridges are available in 150, 350, and 700ml capacities to help control costs and eliminate waste. Use the inks you need most and reduce your impact on the environment. Cartridge sizes can be mixed and matched on the fly. Controlling ink use by the job or by the client has never been easier!
Photo Quality Black & White Printing

By combining Black, Light Black, and Light Light Black Inks, the Epson Pro 7900 produces film-quality black & white photos from color or grayscale files. From the darkest black point to the brightest white point, prints offer smoother tonal gradations without sacrificing contrast. With the Epson Pro 7900, wide-format, fine art black & white imaging rivals the very best fiber prints!