WebThinkFive Design:

WTF Design Service located in Northwest Montana, provides a full service option for either your business or personal presence on the world-wide-web(www). Creating and implementing a professional interactive Content Management System, that can be easily self-maintained, is our design objective and specialty.

Wide Format Printing:
WTF Design Services also provides wide format printing of banners, posters, and limited edition fine art prints on a variety of media, including canvas and water color papers at a reasonable cost.
Art Galleries, artist bio: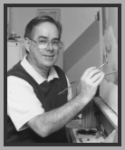 Ron Hart, principal designer at WebThinkFive, completed two years of commercial art studies at Solano Community College transferring in 1976 to the Academy of Art College in San Francisco, where he specialized in Illustration and Design. Later, his art education continued in a 5 year mentoring program with William A. Herring of El Paso, Texas. Herring's instruction focused specifically on color and structure in art composition.
Ron was an airline pilot for thirty-two years, retiring from American Airlines in December of 2000. During his travels Ron learned invaluable lessons from masterworks he studied in some of the world's finest art museums. After retiring from flying his painting began to focus on aviation art.
Ron maintains affiliations with several national art organizations. As an artist member of the "American Society of Aviation Artists" and a signature member of the "Pastel Society of America", Ron's work has won numerous awards including: 2006 "Boeing Spirit of Flight Award", 2004 "Aviation Week and Space Technology" Commercial Aircraft Award, a Best of Show at the 2002 "Horizons of Flight" Aviation Art Exhibition & Competition, a "First Place" at Canada's 2001 Aviation Art Competition, "ArtFlight-Art en Vol". A "Par Excellence Award" in 2002 from the EAA AirVenture Museum, and the "Florence S. Prisant Award" from the Pastel Society of America, a "pastels only" show held annually at the National Arts Club in New York.
Ron's works can be found in collections throughout the United States, Canada and Western Europe. Ron currently lives in Eureka, Montana.